This is a 5 part post/article (delayed as it may be) detailing the 2007 College Football Season. We'll discuss the teams, the upsets, the players, the coaches..... and as always, the controversy.







Part 1
The Teams:

Your recent traditional powers stayed on top (LSU, Ohio State, Oklahoma, West Virginia, Georgia, USC, and Texas to name a few)

Some teams had their surgence season. I can't even call it a resurgence as they came from nowhere (Kansas, Florida Atlantic, Illinois, UConn, Virginia)

Another team came back from tragedy to a good, solid season (Virginia Tech)


Some more prominent teams struggled (Texas A&M, Miami, FSU, Nebraska, Wisconsin, California, and UCLA)

One tanked (Notre Dame.)

The Cinderella team (Hawaii) fell short unlike the previous two (Utah and Boise State.)

The bottom Dwellers stayed there (Baylor, Duke, North Carolina, Northwestern, Stanford, and FIU)

Some of your mediocre to good teams pulled themselves up by their boot straps to have decent seasons (Kentucky, Texas Tech, Wake Forrest, Colorado.)

The SEC proved to be the strongest conference with the juggernauts of LSU and Georgia being pretty dominant all season. Florida, Auburn, Tennessee, and Miss State all turned in good seasons to round out the mid-teams. Arkansas, Alabama, and South Carolina all had sub par seasons for what's expected. Vandy and Ole Miss were Vandy and Ole Miss


The Big XII was considered one of the weakest conferences to start the year. By the 11th week of the season the conference had 3 teams in the top 5 (Oklahoma, Mizzou, and Kansas). Combined with good season's from Texas and Texas Tech, the conference looked alright in the end. Colorado, A&M and Oklahoma State all ended up bowl eligible w/ some strong wins along the way.



The ACC was expected to blow this year in general. Boston College looked to be the savior as they maintained the #2 ranking after getting by VaTech in a low scoring game. They then lost two in a row and the conference championship game. Virginia Tech showed that Kansas may not have in fact been that overrated. Virginia and Wake had some good wins as well.

The Pac-10 looked to be killer coming out of the gate with California, Oregon, and USC all garnering top 10 rankings early in the season. The bears knocked out the ducks, who then knocked out the Trojans, who in turn lost to .... Stanford???? Oregon lost Dennis Dixon and California apparently lost their play book and direction. They were never the same team after a loss to Oregon State. ASU turned in a decent 10 win season.

The Big Televen came into the season criticized as they lost poorly at the end of last season, highlighted by an outstanding showing by the Buckeyes in the MNC last year. Michigan started out losing to a 1-AA and getting blown out at home by Oregon. Wiscy had a decent enough season but never seemed to get as good as we thought they were going to be. Illinois had a resurgent season getting 9 wins and beating #1 OSU w/ Juice Williams. The bowls however were not so kind to any of the above teams except Michigan which sent Lloyd Carr out with some flair.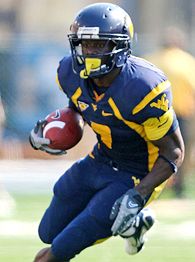 The Big East looked like a monster at some points and looked like a joke at others. WVU seemed
ready for prime time with Pat White, Steve Slaton, Owen "wrecking ball" Schmitt. Rutger and Louisville also looked to be poised for good seasons with key starters returning on both teams. Louisville flopped under Kragthorpe. Rutgers was shown to merely be decent. The surprise coming out of the Big East was South Florida who was actually ranked up to #2 at one point in the season. WVU ended up winning the conference despite losing to a bad Pitt team to close out the season.


8.6 yards a carry and we still lost to Pitt?
The regular top teams finished on top. Your bottom dwellers stayed there. Despite the overall flipflop of rankings and how the season itself played out... it was nothing too exciting , if you don't count...
(To be Continued)